All of us at CS Creative are thrilled to have received a Silver Quill Award from the Southern Region of the International Association of Business Communicators (IABC). I accepted the award on behalf of CS Creative at the Silver Quills Awards luncheon in Denver, CO this past Friday, October 16. The luncheon was a part of the 2015 IABC Southern Region's Annual Conference.
It is an honor to be recognized at the regional level for the integrated marketing campaign we developed for our client, Premier Trailer Leasing. And it was a real pleasure for me to visit the Mile-High City to represent CSC! Especially considering this same campaign won at the local level this summer – earning an Award of Excellence at the IABC Dallas Quill Awards ceremony.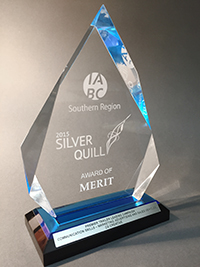 Our entry was evaluated by a panel of judges who have expertise in our specific communication field, using the high standards set in IABC's global seven-point scale of excellence for strategic communication planning and implementation. To learn more about our winning entry, read the Premier Trailer Leasing case study.
The IABC is a vibrant global membership association with a network of 12,000 members in more than 80 countries, representing many of the Global Fortune 500 companies. IABC offers education, certification and online resources to professionals in the field of business communication.