The Business Marketing Association (BMA) has announced that CS Creative has won an Award of Excellence at the 2014 BMA Global B2 Awards for its branding of Texas Instruments' Medical Business Unit in the category of "Integrated Marketing Communications". Out of nearly 1,000 entries accepted from around the world, only 176 achieved this honor.
This news comes after winning an Award of Excellence and Best of Show at the BMA of Houston's 2013 Lantern Awards for the same project. That win automatically qualified CS Creative to be entered in the BMA international B2 competition.
Texas Instruments engaged CS Creative to position its Medical Business Unit as the single most experienced source for medical-related applications. CS Creative conducted extensive research to come up with just the right name and tagline – TI HealthTech, Engineering for Life. Then we created a visual identity and sales and marketing materials to drive home the Medical Business Unit's brand vision of providing technologies that help clients create innovative products to transform healthcare. To see samples and learn more about the project, see our 3-part blog article, A Healthy Brand from the Ground Up.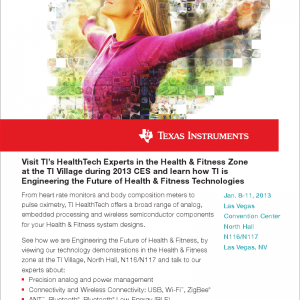 "The collateral CS Creative delivered has received positive comments from my counterparts in communications all the way to the top of the organization. The media and our customers have commented on how much sense it makes that we went this direction. Other businesses should consider the same process," said Sonya Terry, Communications Manager at TI.
The Lantern Awards is Texas' premiere awards event recognizing the finest in B2B work for more than two decades. Its sole purpose is to highlight top-quality creative and strategic business-to-business communications. It is hosted by the BMA Houston, the only leading professional association dedicated to connecting B2B marketers.
The Global B2 Awards is the Business Marketing Association's premier, international B2B marketing awards program honoring results-oriented creative excellence and the best in strategy and style. The 2014 B2 Award winners will be honored during an exclusive reception at the Paris Club on Tuesday, May 27 in Chicago.